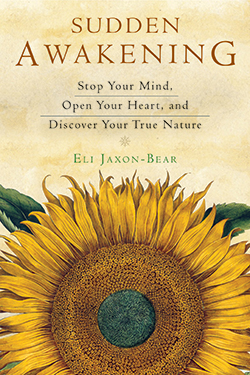 Sudden Awakening
Everyone wants to be happy. This is a universal component of the human condition and may seem so self-evident that it does not bear noting. So why is it that so few people are truly happy?
If it is true that our nature is happiness and bliss, why has it been so rare for people to realize this? Why has it been so rare for people to live their lives in gratitude and love?
There is a living intelligence in all people that seeks ultimately to discover its true identity and source. It is a fortunate and mysterious moment when the desire for happiness leads to the investigation into personal identity, also known as self-inquiry. In the light of direct self-inquiry, limitations that once seemed to define oneself are discovered to be more like transparent lines drawn on water. They exist only on the surface of consciousness in one's imagination. When these illusions of mind are clearly exposed, true limitless being reveals itself.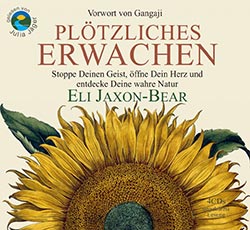 German audiobook narrated by Julia Jäger, 4 CDs, 296 minutes
"This is a book for awakening… for all of us to meet our true self. The first part of the book is like the finger pointing to the moon. The second is the light of the moon itself. "

–Nancy Baker, dharma successor of Roshi Bernie Glassman and professor of philosophy at Sarah Lawrence College
"The lightning bolt of love dances heart to heart from an ancient sage to western vessel as Eli sings the timeless message to awaken the ones who have ears to hear and eyes to see."

–Shaykha Fariha, spiritual guide, Nur Ashki Jerrahi Sufi Order
"Eli Jaxon-Bear is a crucial messenger in our time… The integrity of his search, the living power of his realization, the courage of his life all merge seamlessly… The holy transmission of his teacher lives in him and seeks your heart."

–Rabbi Marc Gafni, author of Your Unique Self, The Radical Path to Personal Enlightenment
"Eli Jaxon-Bear's wonderful new book Sudden Awakening inspires us… It offers us both a map of consciousness and a vehicle of liberation. "

–Russell Targ, research physicist with two awards from NASA and author of The End of Suffering
"Sudden Awakening by Eli Jaxon-Bear is the real thing. It is not only a description of the moment of true spiritual awakening but is also an aid in the invariable obstacles barring that moment.This is not only a spot on study of the process leading to realization, it is a ringing manifesto of liberation. It is highly personal but also universal.I found it almost impossible to put down. I call it the real thing because there isn't even a moment of dogma or bias. Sudden Awakening went straight to my heart."

–Dr. Murray Korngold, Founder of the Los Angeles Society of Clinical Psychologists
All products are purchased through The Leela Foundation. When you click to order you will be redirected to The Leela Foundation website.